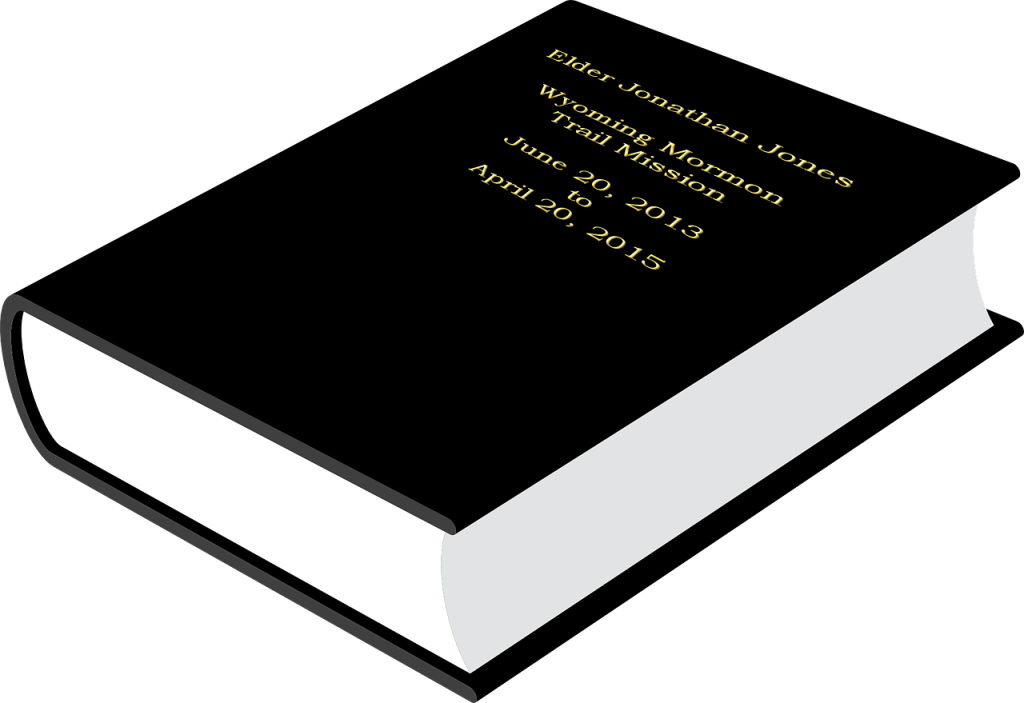 When your missionary returns home, and you've posted the final entry on their missionary blog site, think about how great it would be to have all of those letters and pictures together in a nice hardbound book. It would be a great remembrance and keepsake of their mission. All of their letters home, all of their experiences, all the pictures, in a nice hardbound book.
That's one of the optional services we will provide. We'll gather together all of your missionary's letters, all of their pictures, in the format that you used, and get them printed in a hardbound book. This is a quality book, archival/acid-free glossy paper, perfect (paperback-type) color binding, the works. There are options for hard bound, color covers, and more.
We can include additional material – like copies of their calling and release letters – as part of the book. You get to decide how things are arranged. The cover can be embossed with their name, or even include a picture. We will make it look like you want it to look!
What a great keepsake for your missionary – and your family!
The cost is quite reasonable. There are many variables that will affect the final cost – number of pages, additional information added, cover embossing and pictures, and more. The base price is $135 for the 'building' (formatting) of the book, plus printing and shipping costs.
Printing costs depend on the number of pages in the book, the size of the book, and the number of pictures included in the book:
An 18-month mission will result in about 85 letters (one per week), each letter averages about 2-3 pages
Pictures will add to the page count: usually only two pictures on a page (otherwise they get too small)
Additional pages for the calling and release letters, and any other mission letters, or other pictures, that are added.
Based on this example, a book with letters and pictures will be about 250 pages (for 8 1/2 x 11 size). For that book, printing cost rough estimates are about $75/book (for paperback, full color cover/pages), or 'perfect bound' hardback $95/book (full color cover/pages). Quality 70# paper is used; shipping costs are extra. It will take about three weeks (approximately) for formatting and printing, plus shipping time (single or multiple locations). Different size paper sizes, binding options (hardbound or spiral or paperback), and additional formatting, etc. are available. There are lots of options that affect the final price, so we will try to estimate a price for your specific needs.
Setup cost (all the work to convert individual letters/posts into a formatted book: $135 (no matter how many printed copies)
Printing cost (based on 8″x10″ book, 70# paper, with color pictures, 250 pages: $75/each (paperback) or $95/each (hardbound)
Extra features at extra cost: dust jacket, color picture on cover, more pages, etc. at extra cost
Shipping not included (can ship to multiple addresses)
Again, these are estimated costs, but think of the memories that your missionary can share with their family – and their future family! We'll work with you to provide the book you want for your missionary.
Already Served? Still Serving?
If the mission is completed, or has already started, we can build the Mission Book from your letters. Costs are as above, plus additional work if we need to transcribe written letters (emails are easiest for us to start with). We'll add any pictures you include, plus the mission 'call' and 'release' letters. Base costs for the missionary book are as above, but final cost depends on book size, cover, binding, color, and shipping. We'll figure out the projected cost when we help you determine the details. Contact us to get started.
Get Started Now!
We can get started at any time. Sign up for our service at any time, even if your missionary has started serving. If their missionary service is completed, we can create their Missionary Book from copies of their letters or emails.
The experiences of your missionary will be ready for all for your family and friends to read in their own customized Missionary Book. We'll work together to create their Missionary Book – a treasured keepsake for your missionary, and your family!
Let us know if you have any questions. Get started with your missionary's site now – or Contact Us about a Missionary Book. It's easy, and there is No Geeky Required!
Thanks!  The MissionaryLetters.com Team